WarBirds: Red Baron 2012 : The Battle in the Sky during the Great WAR, World War I, 1914-1918.
Brand New and Improved Graphic System with more Polygons, Better Terrains, More Special Effects, and Bigger Explosions!
SUMMARY
Genre: Action/Sim, Shooter, 3rd person
Launch Date: Q3 2011
Platform(s): PC and Mac/ 1 DVD
Number of Players: 1 - MMOG
Target Age: 12 - 45


Violence



WarBirds: Red Baron 2012 Screen Shots!
GAMEPLAY OVERVIEW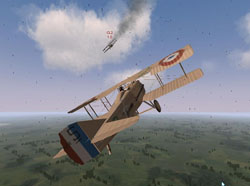 WarBirds: Red Baron 2012 gives players fast-flying combat aerial fights across the embattled skies of Europe during World War I with a brand new graphic system, with more polygons and more detail in the aircraft, the terrains, and all the special effects. New sounds, new tracers, new explosions greatly enhance the WarBirds: Red Baron 2012!
World War I was the period in History when the aeroplane came of age. Two brothers from Dayton, Ohio, USA, invented the aeroplane in 1903. Eleven years later, the military had begun to purchase this new invention, primarily for observation purposes.
By 1916, the airplanes were being armed with more powerful and more deadly guns. What began as a gentlemen's profession turned into a deadly aerial ballet. The pilots on the Allied side did not even wear parachutes. It was not considered manly and the commanders thought it would make pilots abandon their airplanes too early.
The biggest ace of the period was Baron Von Richthofen, "The RED BARON!" The Red Baron collected 80 kills during the war. Von Richthofen learned to fly in March 1915 and died in April 1918 in a battle with 8 Sopwith Camels.
World War I flying games have sold millions of units at retail. Two products alone have sold over 1 million units. Sierra Online launched the first game called Red Baron, which sold more than 700,000 units. MicroProse launched Knights of the Sky and sold over 300,000 units (this game was produced by iENT CEO, JW Wild Bill Stealey).
World War I flyers did not use missiles, radars, or battle from a distance. These pilots could look the enemy in the eye. These pilots also flew close to the ground and always had to be concerned about ground fire. WarBirds: Red Baron 2012 is a graphically excellent, historically correct, and exciting simulation game for arcade, realistic, and expert players.
FEATURE SUMMARY
Search for the Red Baron! Get to be the best WW I Aviator in the World! Win the Title of WGFP! "World's Greatest Fighter Pilot" of WW I.
Campaign Mission of WW I from 1914 to 1918. Thousands of randomized missions so no two missions ever the same!
Full set of Training and Practice and Instant Action Mission
Fly aircraft, airships, (Zeppelins), defend in anti-aircraft guns, drive trucks or armored vehicles to take enemy territory and accomplish your missions.
Real world topography of the area of Europe where WW I took place.
10 authentic WW I airplanes.
Authentic sounds and vintage photographs included in the game.
Ability to play MMOG online with hundreds of other live players around the world.
Free 30 Day Online account.
What Makes WarBirds: Red Baron 2012 Fun!
Great State of the Art Graphics
Cool Subject-World War I Flying Combat!
Great Explosions
Great Action
Real History
Military Heroes
Lots to do-Bomb, Strafe, Dogfight, Defend using Ack-Ack, fly Airships!
Game Storyline
The Great War started in 1914.
Airplanes were nothing more than observers of the battles below.
By 1916, aircraft started being armed.
The first significant air battles began as machine guns gained the ability to fire through propellers by mechanical connection.
Baron von Richthofen, the best German Ace, claimed over 80 victories as the Red Baron.
The player will participate in many of the great air battles of World War I and affect the outcome of the War.
Game Missions
Training Missions - Learn the cockpit, takeoffs, bombing and strafing, dogfighting, and bringing your aircraft home!
Instant Action Missions - Jump into one of 8 different missions where the fight is on! Air to Air, Air to Ground, in your armored vehicle, and more!
Campaign Missions - A Series of linked historical missions leading up to the success or failure of the air battle over the trenches!
Multiplayer - Go Online in massively multiplayer reenactments of historical battles against hundreds of other players online worldwide!
Sample Campaign Missions
Unlimited and varied Campaign Missions including the four below.
Bloody April: April 29th 1917 - Baron von Richthofen is in the air and after you!
Hill 70: August 15th, 1917 - The Battle of Lens with Canadian troops leading the charge.
Two Against Twenty: May 7th 1918 - Charles Gass, the leading observer in the war, bagged 5 enemy planes in one day!
End Game: November 3rd, 1918 - The exciting final battle for Lille and Metz!